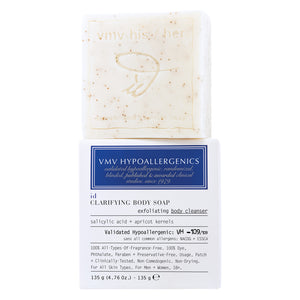 ID 袪痘淨肌系列
ID Clarifying Soap Exfoliating Body Cleanser 135g
Regular price
$15.00
$0.00
Unit price
per
This product is part of our Going, Glowing Gone campaign. Product "expires" (its sell-by date is) February 2022. To learn more about "expiration", check out our FAQ on Sell By and Expiration Dates or the article Do Cosmetics Expire? on InSKIN. All our Going, Glowing Gone products are in excellent condition for use.
Salicylic acid + apricot kernels. An invigorating, stimulating cleanser for body skin.
Contains salicylic acid to sustain the Id System's anti-acne, anti-inflammatory, exfoliating process. It also includes apricot kernels to buff, massage and stimulate the skin, while sloughing off dull, old skin cells to keep skin fresh, soft, smooth, and clear.
Helps clear up pimples, chicken skin and other skin bumps from all over.
Provides an invigorating, stimulating bath massage.
Gold standard glycerin and organic virgin coconut oil provide skin-soothing hydration.
Great to use before shaving legs and other body skin to lift hair so razors can cut them better. Besides a smoother shave, your razor meets skin less times, lessening potential irritations.
Also great on thicker skin that could use a more thorough buffing like the soles of the feet.
VH -108/109*
sans common allergens: NACDG + ESSCA
100% All-Types-Of-Fragrance-Dye-Phthalate-ParabenPreservative-SLS + SLES-Free.
Usage + Patch-Tested (in vivo + in vitro). Non-Drying. Non-Comedogenic.
For All Skin Types. For Men + Women, 18+
---
Share this Product
---